Do you know your TikTok account can turn into a high-paying career? As exciting as it sounds, it is challenging to gain monetary benefits from TikTok if you are stepping into the game. On the other hand, views play a pivotal role in helping you make money through TikTok videos. Most TikTokers' primary concern is viewed, and they always look for strategies to increase them. If you have the same concern, you have landed on the right platform. This article states some tried and tested strategies to get more TikTok likes and views. Carry on to know about some spot-on suggestions!
Why Do Views Matter on TikTok?
Before we jump onto some strategies for increasing your TikTok view, let's examine why they matter. TikTok is a platform to gain popularity and an audience that can help you in future endeavours. Views can get you the exposure you want and followers in a large volume.
On the other hand, TikTok views can make you a good passive income that can turn into a full-fledged career. In countries like America, China, the UK, Germany, and Italy, you can make money through TikTok. The app pays you anywhere between $0.02 to $0.04 per 1000 views. If you have many views, you can make some extra cash or may even live out of it. However, you must fulfil a few guidelines before making money.
One of the best benefits of more views on TikTok is landing brand deals. Brands want to collaborate with you if you have great popularity on TikTok. Working with brands can make you a great deal of money and give you exposure for future endeavours.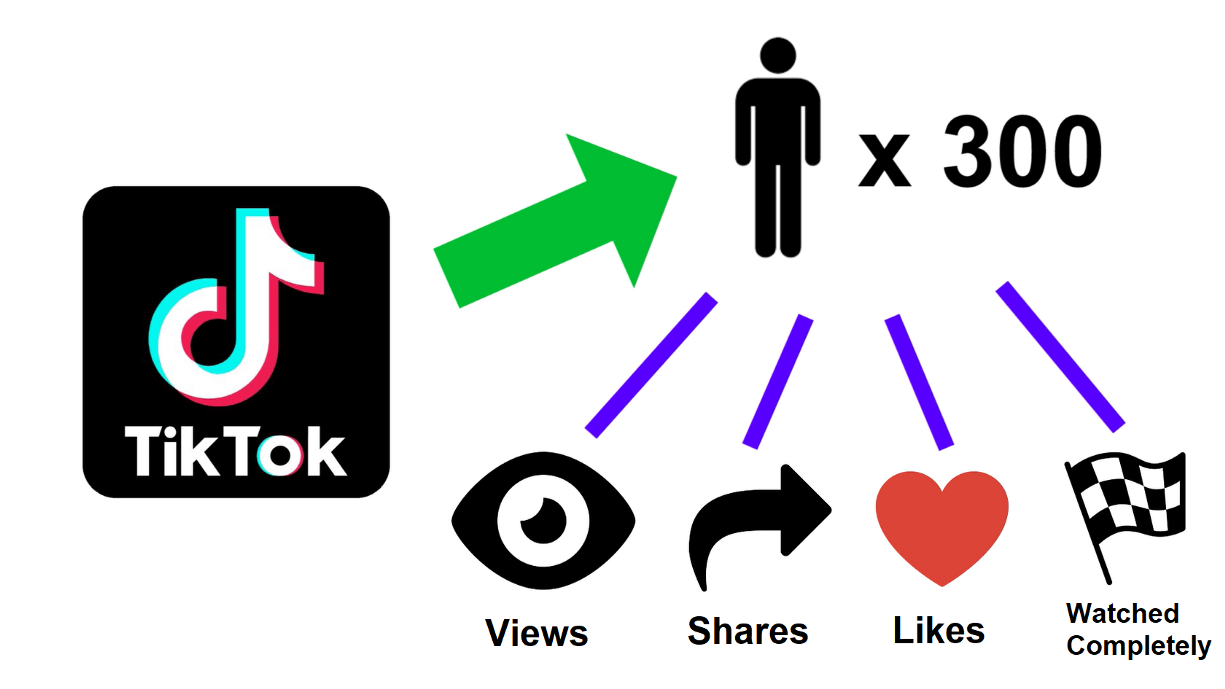 Some Tried and Tested Strategies to Gain More Views on Tik Tok
If you are interested in everything that TikTok has to offer, you better start working on increasing your views. We know getting a large number of views is a challenging task, but some strategies will help significantly. Here are some strategies that genuinely work to spike your TikTok Views:
1.   Adopt TikTok Algorithm-Friendly Habits
One of the biggest things people need to correct when posting videos on TikTok is that they need to optimize them. Like SEO of written content is key to visibility, optimization of TikTok videos is also essential. You should add relevant hashtags in your video descriptions to trend. Do keyword research and add at least 4 hashtags in each video.
On the other hand, posting at the optimal time is also crucial. Make sure you use trending audio, take audience-grabbing visuals, make shorter content and stick to what you are best at. Always follow the trends and be relevant to your audience. Here are some notes to take:
Make shorter and eye-grabbing content
Add at least 4 relevant hashtags in each video
Use the latest audio and match the visuals to it
Be consistent in posting content and stick to your niche
2.   Follow the Trends
TikTok is a fast-paced platform where content trends are changing every day. People like to watch videos that are in trend and keep them engaged. If you want to break through the competition on TikTok, you must follow trends or be a trendsetter. Make sure to make in-trend transition videos and use trendy audio. It helps enhance your chances of being discovered on TikTok and gaining more audience.
3.   Keep your Video Fun and Short
TikTok is an excellent platform for short-form content, allowing you to be creative. Most people with high views on TikTok post short 30-second videos. However, the 30-second video should be powerful enough to engage the audience.
If you want to keep spiking views, make a less than 30-second video and make it fun. The chances of the videos getting rewatched are much higher, increasing your video engagement.
4.   Select a Niche and Stick to It
One of the biggest mistakes some TikTokers make in the start is not selecting a niche. People follow TikTokers for specific things that they can relate to. However, if your videos are about anything and everything, people might not relate to you.
If you want to gain more followers, stick to a niche and make videos about that. If you are passionate about books, post videos about that. However, being on top of your game and sharing great knowledge with people is also essential. Ensure your videos are authentic and well-shot to increase your credibility in the niche.
5.   Collaborate with Famous TikTokers
Most people want to increase their view fast; however, the process takes time and patience. If you want to increase your TikTok views fast, it is best to collaborate with people who have a good following. You can feature a fellow TikToker in your videos and ask them for the same favour.
This way, your followers know about your fellow TikToker and vice versa. Many famous Tiktokers today follow the same strategy to uplift their views and gain more followers. However, it would be best if you collaborated with a TikToker from the same niche.
6.   Buy TikTok Followers
Most people think buying TikTok followers is not a great idea as they are simply bots. However, it is not true; buying TikTok followers can be quite beneficial. Buying followers from an authentic website ensures they are interactive and help alleviate your video engagement levels.
You also can get more authentic views on your videos when you buy TikTok followers. It helps increase your visibility which is exceptional for your page's growth. You start to gain a more authentic following which can provide monetary benefits.
7.   Use Multiple Social Media Channels for Promotion
Most people make the mistake of only sticking to one social media platform. If you want to become an influencer, cross-marketing is crucial. If you are a TikToker, have accounts with a similar name on other platforms.
Always promote your content on different social media pages and provide direct links. You can always use Instagram and Facebook to plug in your TikTok account. It is a great way to have a solid audience on TikTok that can provide you with many views. You can use different social media channels to post TikTok teasers and direct the audience to your page.
8.   Ask your Friends and Family to Share your Content
If you are new to TikTok and trying to break through the competition, asking your friends and family for a promotion can help greatly. You can ask your friends to share your content on their social media. It works as a chain and gets more people directed towards your content. Once your page gets traction, TikTok starts recommending your videos to more people.
Bottom Line
TikTok is one trending platform that provides users great popularity and a chance to make a good income. You need to follow certain strategies to get more TikTok likes and views. If you mix and match a few strategies, you can achieve more views than you anticipate. Lastly, consistency and sticking to your niche are crucial factors for steady growth on any social media platform such as Smmis.com